T O P   F I C T I O N   T I T L E

TOP FICTION

---

Spillett-Sumner, Tasha and Donovan, Natasha.  Surviving the City.  November 2018 . Highwater Press. Paperback  $18.98.  56 pages.  9781553797562.  Middle Grades.  

---

Milkwan and Dez are best friends.  Milkwan is Anishinaabe and Dez is Inninew.  When Dez disappears after finding out she might be sent to a group home because her grandmother is too sick to care for her, it brings back the memories of  the disappearance of Milkwan's mother and Milkwan is overtaken with worry for her missing friend's safety in an urban area filled with the dangers of the street.  The resilience, cultural, and spiritual support needed by Milkwan to overcome the resurging anguish is addressed in this haunting story that highlights the alarming numbers of missing and murdered Indigenous women and girls whom authority in Canada and the United States have paid little attention to for decades.
R E C O M M E N D E D    F I C T I O N
---
Ahmed, Samira.  Internment.  March 2019. Little Brown Books.  Hardback $17.99.  400 pages.  9780316522694. Young Adults.  Set in the recent future after the 2016 presidential election, Muslim-American teen Layla and her parents are sent to a repurposed Japanese internment camp that is now being used to "relocate" Muslim American citizens.  Layla and her friends are forced to decide whether they will accept their fate or rise up against oppressive fascist forces.
---
Azmitia, M.  The Same Blood.  August 2018.  Enslow Publishers.  Hardback $19.95.  200 pages.  9781538382523.  Paperback $12.90.  9781538382516.  Young Adult.   Written in verse, this quick read tackles a lot of tough issues. The intriguing plot grips you and draws you in to reflect on teen suicide through the eyes of a twin sister faced with looking back and moving forward. The story is intense. It will make you wish you could have been there to intervene. Overall, this text is extremely effective at illuminating complex issues of identity and mental health. Read, reflect, and talk about it.
---
Charles, Tami.  Becoming Beatriz.  September 2019.  Charlesbridge.  Hardback  $17.99.  272 pages.  9781580897785.  Middle Grades and Young Adult.  Beatriz Mendez has a lot on her plate. This ambitious Afro Latina student, growing up in New Jersey in the 80s, has aspirations of becoming a famous dancer, but her plans are derailed by her brother's untimely gang-related death, her mother's grief, her own gang involvement. Speckled with Spanish, her story gets twisted around again through a budding high-school romance. In the end, Beatriz maneuvers her own way into her futuro.
---
Fenton, Andre.  Worthy of Love.  March 2019.  Formac.  Paperback $8.99.   200 pages.  9781459505483.  Young Adults. Youth encounter many hurdles in high school. Worthy of Love offers a candid look at one teen's struggles with self-image in this complex environment. The mixed-race protagonist, Adrian, is a relatable and likable character, who, like many teens, makes some troubling decisions as he navigates emerging responsibilities and possibilities. An accessible, compelling, and substantive teen read!
---
Gant, Gene.  Borrowed Boy.  November 2018. Harmony Ink.  Paperback $14.99.  180 pages.   9781640805996.  Young Adult.   When 13-year old Zavier Beckham discovers he was stolen as an infant and that he now has to leave his adoptive family in Memphis and move to his biological family in Chicago, he had no idea of the problems that lay ahead.  He knows he'll probably be homesick but he's not prepared for the abuse he's about to face at the hands of his older sibling, the surprising friendship in Brendan, and his newly emerging understandings of sexuality and gender identity.
---
Hardy, Chanel.  Moonlight [2-book digital series]. Hardy Publications:.  Kindle Edition $5.98.  Young Adults and Older Teens. 
---
River's Moonlight (Moonlight Book 1).  Digital $2.99.  211 pages.  B07HN8PYTB.  After her parents' death at the age of nine, River has lived with her Aunt Tasha, a Chicago policeman. Her aunt's chosen occupation made for a personality that often clashed with River's teen angst.  Against her aunt's advice, River goes on a date with the local heart throb, Andrew. When the couple experience an unknown paranormal encounter on the drive home from their date, it proved to be fatal for Andrew and transformational for River.  Armed with the adrenaline-rush fear of the unknown from new life-changing secrets, the first part of this two-part fantasy thriller ends with River on the run with a new identity she can hardly keep under wraps.
The Coldest Moon (Moonlight Book 2)   Digital $2.99.  88 pages    B07KKXHP31.  Due to her newly formed identity, book two finds River running against time from the pursuit of new enemies with the aid of a love who is willing to risk it all to keep her safe.  Not only is her life in danger but her new-found enemies have brought about the death of her Aunt Tasha and her one true friend, Tatiana.  Filled with an abundant cast of diverse characters, this second installment brings this suspenseful fast paced fantasy thriller to a riveting conclusion.
---
Joelson, Penny.  I Have No Secrets.  November 2019.  Sourcebook Fire.   Hardback $16.99.  304 pages. 9781492693369.  Young Adults.  Fourteen year old Jemma's cerebral palsy confines her to a wheelchair and limits her ability to move, speak, or communicate in any manner.  Other more abled characters help Jemma with everything and some even share their darkest secrets, not thinking that Jemma is of sound mind and thoughts.  When the boyfriend of Jemma's caretaker shares his confession of murder to her and hears that she's soon to receive a new communication device, Jemma is not sure if she'll live long enough to see that device let along get the devastating truth to authorities.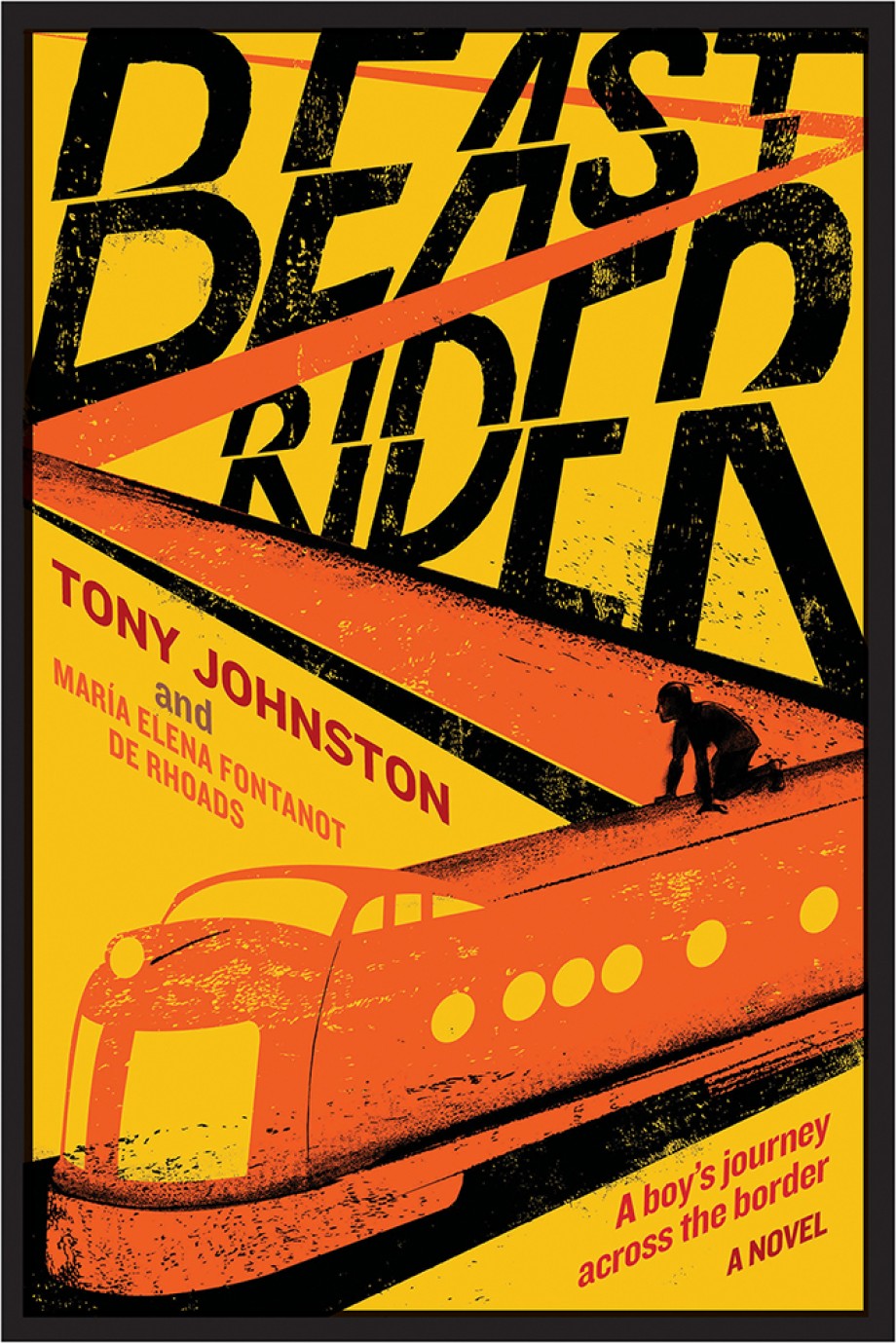 ---
Johnston, Tony and Fontanot de Rhoads, María E. Beast Rider.  March 2019.  Abrams.  Hardback  $17.99.  176 pages.  9781419733635.  Young Adults.  Manuel lives on his family farm in Mexico, close to a train called The Beast. "Beast Riders" are people who hop the train from Mexico to the United States, and one day Manuel runs away and becomes a Beast Rider himself.  Manuel's immigration journey to meet his older brother in Los Angeles is beset with violence and help from strangers.  In America, Manuel is faced with the challenges of being an undocumented immigrant.
---
Laínez, René Colato  and Broeck, Fabricio Vanden.  My Shoes and I:  Crossing Three Borders / Mis Zapatos y Yo: Cruzando tres Fronteras (Bilingual). May 2019.  Arte Público Press.  Hardback  $17.95.  32 pages.  9781558858848. Middle Grades and Younger. A perilous journey awaits young Réne and his father as they leave their home in El Salvador, but he is wearing new shoes, a gift from his mother who is already in the United States and awaiting their arrival. These shoes offer Réne a way to channel his fears into imaginative self-encouragement as the struggle to survive threatens to overwhelm him. Will his family be reunited in the country that offers hope and opportunity?
---
Liu, Jennie.  Girls on the Line.  November 2018.  Carolrhoda Lab.  Hardback $19.95.  232 pages.  9781512459388.  Older Teens.  Raised in an orphanage where she had no example of how to emotionally attach to others, Yun is set up for failure in relationships. Born under China's One Child Policy, she was discarded as an infant, and has internalized the disrespect for human life this regime fosters. Luli, who ended up in the same orphanage of Yun after life in a loving home, wants to help Yun, who she believes has been "damaged for feeling" by her experience. When Yun gives birth to a daughter of her own, can Luli prevent her from selling the baby, or is the coldheartedness that has overtaken her friend impossible to overcome?
---
Mahmoudi, Halim.  Little Mama.  September 2019.  Lion Forge.  Paperback $19.95.  192 pages.  9781549307959.  Young Adults and Older Teens.   Brenda's single, teenager mother is little more than a child herself, selfish and unpredictable, unable to give Brenda the love and stability she needs. As Brenda grows up, she learns not only to take care of herself, but of her little brother, just as she hides the evidence of her mother's physical abuse and the red flags that lead her teachers to question her safety. She can choose to stay and protect her brother, or save herself.
---
McManus, Karen M.  Two Can Keep a Secret.  January 2019.  Delacorte Press.  Hardback $19.95.  336 pages.  9781524714727.  Young Adults.  Ellery and Ezra Corcoran are staying with their grandmother until their mother heals from a car accident.  The twins are not prepared for all the secrets embedded in their mother's hometown that was connected to missing homecoming queens from as far back as twenty-three years ago.  When another girl turns up missing shortly after their arrival, however, Ellery turns to Malcolm Kelly to help unravel the mysteries of the murders which seem to be interconnected. Told in the alternating viewpoints of Ellery and Malcolm, the reader is privy to each character's thoughts, feelings, and juxtapositions that help create the story's prevailing and dramatic irony.
---
Mendez, Matt.  Barely Missing Everything.  March 2019.  Atheneum /  Caitlyn Dloughy.  Hardback $17.99.  320 pages. 9781534404458.  Middle Grades and Young Adults.  Juan and his friends have big dreams: basketball scholarships, filmmaking, and most of all, getting out of family situations they don't want to repeat in their adult lives. One choice can destroy all of their plans, even if that choice is made by someone else with the best of intentions. With the odds stacked against him, can Juan satisfy his desire to meet his imprisoned father, avoid antagonizing his stressed out single mother, and make the grades he needs to succeed?
---
Patel, Sonia.  Bloody Seoul.  August 2019.  Cinco Puntos Press.  Hardback $17.95.  224 pages.  9781947627208.  Young Adults.  Rocky has a future full of hate and violence ahead of him if he follows his father's footsteps, but he is haunted by the memory of his mother. He is feared and respected, both because of his bullying tactics and his family connections. Power, women, drugs . . . what more could he want? His tough exterior hides the abuse he suffers at the hands of his father, and the love he desperately misses from his mother. Is it too late for him to change the path of his life?
---
Paul, Joey.  Lights Out (Book 1).  July 2019.  CreateSpace.  Paperback $19.85.    557 pages.   9781724658357.  Older Teens and New Adults.  Eighteen year-old Lock is a mixed race queer amputee who lives with her girlfriend Lana.  Both are employed by the Cityship as base security technologist, which keeps track of data for the system's post-apocalyptic bias-free world that was formed from the disastrous results of an out-of-control global population growth and misuse of resources. Citizens of the Cityship show no aging past 25, abide by the one-child per family law, and believe in being euthanized one day after 60. Lana believes in living a naturally aged life and Lock has always shown total allegiance to the system. When Lock discovers a data glitch that alters the death dates for citizens, her faith in the system begins to falter and she knows she has to escape the Cityship in order to seek justice for those whose life ended before their time.
---
Quinonez, Ernesto.  Taina:  A Novel.  September 2019.  Knopf.  Paperback $$15.95.  272 pages.  9781984897480.  Older Teens.  A Latin American coming of age novel set in Spanish Harlem and infused with elements of magical realism. The novel's seventeen year old Puerto Rican protagonist, Julio, falls in love with Taina, a pregnant 15 year old who claims to be a virgin and is the only one who believes her. As Julio's life becomes entangled with crime after meeting Taina's ex-con uncle, "El Vejigante", he is drawn closer to understanding Taina and uncovers his own family secret.
---
Ramos, NoNieqa.  The Truth Is.  September 2019.  Carolrhoda Lab.  Hardback $18.99. 272 pages.  9781541528772.  Young Adults.  Verdad is looking to find her truth. After losing her best friend, Bianca, to gun violence, there is a void in her world. In tandem with mental health struggles, she must navigate her queer awakening and confront biases around sexuality and gender identity. As she clamors through high school, Verdad relies on Bianca's memory, insights from family and friends, and ultimately herself to dodge life's punches. Authentic language and intriguing intersections keep this story flowing vividly.
---
Rendon, Marcie R.  Girl Gone Missing.   June 2019.  Cinco Puntos Press.  Paperback $15.95. 208 pages.  9781947627116. Older Teens and New Adults.  In this second installment of the Cash Blackbear series, nineteen year-old Renee "Cash" Blackbear, an enrolled member of Minnesota's White Earth Anishinabe Nation, has aged out of foster care, is now a freshman at Minnesota State University Moorhead, and has been recently reunited with her long lost brother Mo, a returning medic from Vietnam. With her gift of dream-state premonitions strengthening and broadening to cases beyond her people and White Earth lands, Cash is now visualizing scenes of blonde girls from as far away as Minneapolis calling out for help.  When her dreams project her into the girls' experience, Cash finds her own safety threatened and in need of help.
---
Taylor, Annette D.  Dreams on Fire.  October 2018.  West 44.  Hardback $19.95.  200 pages.  9781538382486.  Paperback  $12.90.  200 pages.  9781538382479. Young Adult.  Free verse poetry shares Shanequa's fight to rise above a family history involving drugs and incarceration. When she has a chance to attend a prestigious prep school, she lies to cover the truth about her background in order to fit in. Friends won through falsehoods aren't true, she discovers, and as her grandmother tells her, a friendly person isn't necessarily a friend. When the truth comes out, Shanequa resorts to violence to defend herself from bullying. Has she ruined her opportunity to make her dreams of attending college come true?
---
Thomas, Angie.  On the Come Up.  February 2019.   Balzer + Bray.  Hardback $18.99.  464 pages.  9780062498564. Young Adult.  Meet Bri, an aspiring teen rapper who wants to follow in her late father's footsteps to become a well-known rapper. Set in the same neighborhood as Thomas's The Hate U Give, readers will connect with Bri's coming of age story that addresses poverty, systemic racism, and the way society labels black youth.
---
Wheatle, Alex.  Home Girl.  September 2019.  Akashic Books.  Hardback $14.95.  288 pages.  9781617757532.  Young Adult.  Naomi knows that being tough is a must in the foster care system, and fighting back is a necessity for survival. Her friends don't want her to leave their group home, so when she, a white girl, is temporarily placed with a black family, they encourage her to lie about her experience there in order to return to life with them. After years of feeling forgotten and discarded, she finally feels at home with the Goldings in spite of the perceived issues their racial difference creates, but can she turn her back on her friends for a home and family of her own?
---
Williams, Alicia D.  Genesis Begins Again.  January 2019.  Atheneum/Caitlyn Dlouhy Books.  Hardback $17.99. 384 pages.  9781481465809.  Middle Grades.  Thirteen year old Genesis blames herself for her family's troubles, so she decides to do what she can to lighten the dark, dark skin she is sure is the root of her parents' difficulties. Her father gambles and drinks their rent money away, so she and her mother move in with her grandmother, who only reinforces Genesis' beliefs in her own guilt. Can a new school with new friends, and opportunities to discover her own talents and inherent value, stop her from adding to the list of reasons why she hates herself?
---
Workman, Pamela. D.  GEM:  Himself, Alone [Digital]. July 2019. pd workman.  Kindle Edition $2.99.   253 pages.  B07SH9HP9Y,  Young Adults. In this fast paced psychological thriller, sixteen year-old Gem has experienced a horrendously dark and depraved life for his age. Having never experienced maternal love, his young life has found him starving and locked in closets for weeks on end by both his mother and grandmother; beaten and sexually abused in a child sex-trafficking ring for pedophiles; and utilizing his life-long knack of developing unbreakable alibis so he can get away with the gang-associated crimes he has to carry out for accepted protection.  His well-buried and cryptic past helps shield his true identity. When he connects Honey, a babe of the gang, with apoignant secret in his past his shield becomes compromised.  An older print version of this story is also available.
---
Wurth, Erika T.  You Who Enter Here. March 2019.  SUNY Press.  Paperback $19.95.  248 pages.  9781438473161.  Older Teens and New Adults.  A storyline that takes its cues from Dante's Inferno, the tragedy laid before us by Erika Wurth leads readers into the world of Matthew who was born into poverty, suffered the nonparenting abuse from an alcohol addicted mother, and sought out gang membership and lovers' acceptance in an attempt to find self-worth.  Matthew's entanglements with the sordid characters on the journey his quest made forced him to decide whether he should continue on the destructive path he walked, or bring it to a halting stop.

---
Other 2020 Nominations and Awards